CityCMS™
Software and Expertise
---
Use innovative tools to keep your constituents informed and
spend less time tinkering with web pages.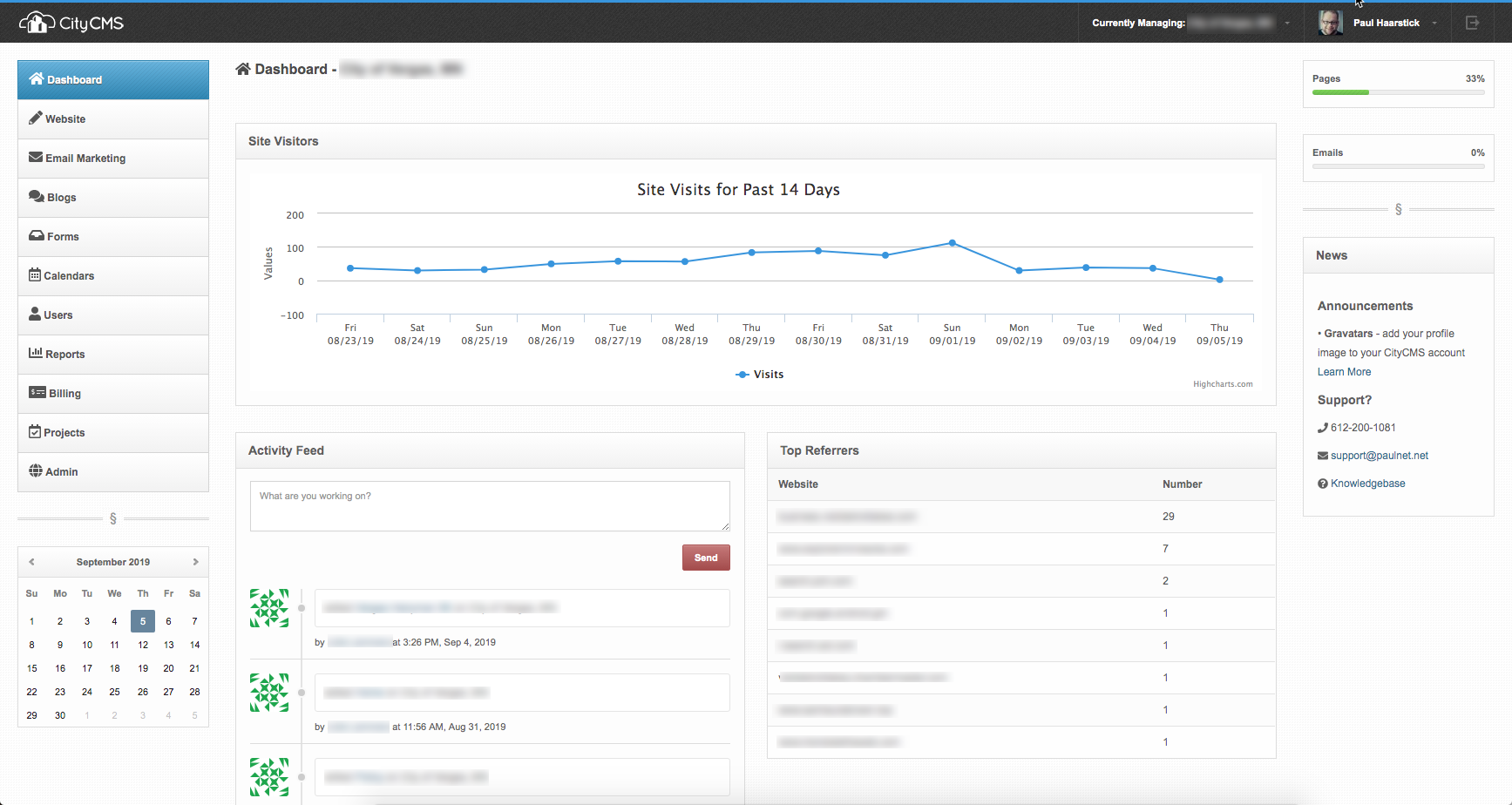 Responsive
Your city's website will work on any device: desktop, tablet or mobile.
Unlimited Storage
Store as many documents, images, videos as you need.
Custom Apps
Your website is more than words. Put it to work with forms, surveys, calendars, career pages, and more.
Secure
Secure SSL Certificate included for your website. Nightly backups, audit logs, and publishing rules keep your site safe.
Blast Your Message
Send newsletters to residents or have them be automatically reminded of city events.
Analytics
We can integrate with Google Analytics or you can use our robust analytics software to see how people are using your site.
Unlimited Support
We provide the tools to empower you to manage your website, but know that we are here every step of the way. Whether we are providing technical help designing a page or you need a strategy partner to advise you on what to do next, we are here.
FAQ
Frequently Asked Questions
---
Got a question? We've got answers. If you have some other questions, see our support center.
What payment services do you support?
For monthly plans, we accept all major credit cards. For annual plans, we can also accept check, money order, or wire transfers.
Do you really mean unlimited?
Absolutely! We created a process that allows us to provide more support than our competitors. However, we do have some things that we do not support, and we do have an Abuse and Fair Use Policy for storage.
Can I update my card details?
Yes. Go to the billing section of your dashboard and update your payment information.
Can I cancel my subscription?
You can cancel your subscription anytime in your account. Once the subscription is cancelled, you will not be charged next at the next cycle. You will continue to have access to your account until your current subscription expires.
How long are your contracts?
You can subscribe for a month at a time or you can subscribe on an annual basis.
Can I request refund?
We can only refund the current month that your subscription is in. An annual subscription will only refund any remaining complete months.